Attention Kansas Business Owners:
Are You Ready To Put An End To Expensive, Frustrating Computer & Network Problems Finally and Forever?
Top Rated CK Technologies Delivers Technology Solutions That Work EXACTLY The Way You Want Them To Guranteed
Call Us Today At 785-623-4841
Why You Should Trust CK Technologies
to Support Your Computer Network
CK Technologies: trusted computer support for businesses throughout Kansas – Let us help you today!
Maybe you're concerned with the current rising costs of your IT services, or maybe you are just running short on time because of your expanding business and need to hand over the reins of some services to someone else. Whatever your reason, we can help you with quality IT services today.
Your business can save money and time today with CK Technologies' managed services, network solutions, IT support and more.
Not Ready To Call Us Just Yet?
If so, we would at least like to send you a copy of our recently published report, 19 Questions To Ask Before Hiring An IT Team.
Even if you aren't ready to make a change right now, this book will give you important questions you should ask your current IT person to make sure that their policies, procedures and service standards won't leave you vulnerable to expensive problems, lost data, viruses, hacker attacks and a host of other problems.
Simply fill out the form here and we'll send you a copy today!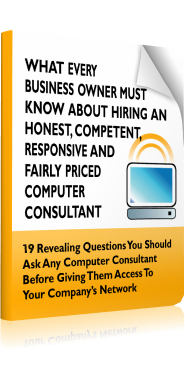 Areas Covered
We provide a range of IT Services, IT Consulting, IT Security, Networking, Surveillance in Hays, Colby, Salina, Russell, LaCrosse, Great Bend, Wakeeney, Plainville, Norton, Smith Center, Ellsworth, Phillipsburg, Stockton, Goodland, Hill City, Ness City, Oakley, Holsington, Larned, and surrounding cities.
Computer Support
IT Services
CK Technologies
Computer Support in Hays, Colby, Great Bend
Network Cabling
Tank Monitoring